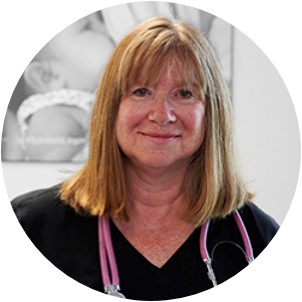 Rosemary Larose, RPN
Clinical Research Nurse
 Rosemary LaRose is a Registered Practical Nurse with nearly 20 years' experience working in research. Rosemary joined the OMNI Research Group in 2017 as a Research Nurse Coordinator. In this role she is responsible for patient recruitment for the many clinical research studies managed by the team. 
Rosemary worked at the University Hospital in London, Ontario for 12 years as a Technician in Nuclear Medicine, Cardiology and Anesthesia research. She moved to Ottawa in 1986 to work at The Ottawa Hospital in the Division of Cardiology and later in nursing in the Rheumatoid/Cardiology/Nephrology program. She also participated in The Ottawa Hospital Preceptor Program for two years. Rosemary returned to research first as a Research Coordinator in Thrombosis Research alongside Dr. Phil Wells, and subsequently in the Hypertension Unit with Dr. Frans Leenen and with Dr. Robert Roberts at the University of Ottawa Heart Institute. Rosemary has played an instrumental role in the Ontario Survey on the Prevalence of High Blood Pressure study, Genetic Risk Factors for the Coronary Heart Disease study and Ottawa Heart Genomics Study. 
Her research areas of interest include thrombosis, cardiology, genetics and the challenging field of obstetrics.